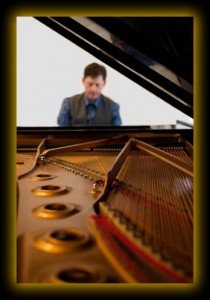 International concert and recording artist and master teacher of piano, David Glen Hatch, enjoys a distinguished career as a soloist and guest artist with symphony orchestras on SIX continents: North America, South America, Europe, Asia, Australia, and Africa. A sampling of performance areas include Jerusalem (Mary Nathaniel Golden Hall), Tel Aviv (Brodt Center for Jewish Culture Music Hall), Auckland (Concert Chamber at Auckland Town Hall), Wellington (Council Chamber at Victoria University), Hong Kong (St. John's Cathedral), Tokyo, Osaka (Izumisano Concert Hall), Shanghai Conservatory of Music, Beijing Central Conservatory of Music, Moscow (Music Hall of Composers), St. Petersburg, Sydney, Hobart (Conservatory of Tasmania), Lima, (National Hospital Rebagliati Martins Auditorium), Piura, Peru, Santiago, Chile (Universidad Andres Bello, Casona de las Condes & Teatro Municipal de las Condes), London, Leeds, Edinburgh (Center for the Performing Arts), Dublin, Copenhagen, Oslo (Munch Museum), Bergen (Troldhaugen Concert Hall), Stockholm, Paris (Church of the Madeleine), Brussels, Geneva (John Calvin University), Darmstadt (John F. Kennedy Haus for the Performing Arts), Munich, Vienna, Salzburg (Mozarteum), Warsaw (Holy Trinity Lutheran Cathedral), Prague (Villa Bertramka), Budapest (Radio Symphony Hall), Rome (Basilica di Mecenzio and Teatro de Ghione), Florence/Pisa, Milan, Ljubljana, Slovenia; Bucharest, Romania; Sofia, Bulgaria (Bulgaria Chamber Concert Hall); Kiev, with the National Symphony Orchestra of Ukraine (Mariinsky Palace Amphitheater), Lviv, Ukraine (Philharmonic Hall), Madrid, Barcelona, Granada, and the Great Hall of the Reina Maria Cristina Conservatory, Malaga, Spain; Palermo (Teatro Orione), Siracusa, and Catania, Sicily, and Athens (ACS Performing Arts Theater), Rio de Janeiro, Sao Paulo, Johannesburg (Linder Auditorium), Cape Town (Hugo Lambrechts Concert Hall), and Buenos Aires, (Teatro de La Plata). He has also performed extensively in the United States including New York City (Carnegie Hall), Washington D.C. (Kennedy Center and Arlington National Cemetery Amphitheater), Dallas (Bass Concert Hall), and Garden Grove, California (Crystal Cathedral).
Dr. Hatch completed the BMU degree from Brigham Young University where he received the Outstanding Pianist Award and the MM and DMA degrees summa cum laude at the Conservatory of Music, University of Missouri–Kansas City where he received the Outstanding Graduate Pianist Award. He has recorded a wide variety of repertoire on thirty compact discs for the following labels: Sony/BMG–Europe (Poland), Music Enterprises, Critics Choice Records, Arizona University Recordings, and Covenant. His Sony/BMG–Europe "Living With The Classics" 4-CD set is being marketed internationally in countries of Andorra, Austria, Belgium, Cyprus, Czech Republic, Denmark, Estonia, Finland, France, Germany, Greece, Hungary, Ireland, Italy, Australia, New Zealand, Singapore, Japan, Latvia, Lithuania, Luxembourg, Malta, Monaco, The Netherlands, Norway, Poland, Portugal, Russia, Slovakia, Slovenia, Spain, Sweden, Switzerland, The United Kingdom, South Korea, China, South Africa, and distributed over 100 digital stores world wide through Sony Connect including iTunes, eMusic, MSN, Napster, MusicNet, Yahoo!, Virgin Digital, Musicmatch, AOL Music Now, Muzak, and many more. A recording with the Budapest Symphony Orchestra, The World's Greatest Piano Melodies, was nominated for two 1999 Grammy Awards for Best Classical Album and Best Instrumental Soloist with Orchestra. Two of the other CDs were commissioned recordings: Smitten With Britten, a first-ever recording of the complete published solo piano music of British composer, Benjamin Britten, and Let Freedom Ring, a patriotic album of Hatch's piano arrangements combined with orchestra, choir, and army band honoring the heroes of the September 11, 2001 tragedies in New York City. This recording received a 2003 Grammy Award nomination for Best Patriotic Album. He received Utah's Best of State 2002 Award Recognition as Utah's best instrumentalist and his recent CD, Title of Liberty: Anthems for Stripling Warriors, won the 2008 Pearl Award for Best Classical Instrumental Album from the Faith-Centered Music Association and his album, "Movie Masterpieces," was a 2012 Grammy nominee for Best Instrumental Soloist and charted on Billboard's classical crossover category. And Hatch's 2017 2-CD set of the Brahms 1st and Rubinstein 4th concerto recordings with the distinguished Christchurch Symphony Orchestra (New Zealand) will be released on CENTAUR–largest independent Classical Record label worldwide.
In addition to being an award winner in numerous state, regional, national, and international competitions including the Gina Bachauer International Piano Competition and the William C. Byrd (Michigan) & Midland/Odessa National Young Artist Competitions (Texas), Dr. Hatch is a frequent competition juror and clinician. His lectures and master classes at conservatories and music schools include the 2010 & 2015 Second and Seventh Annual World Piano Conferences in Novi Sad, Serbia, sponsored by the EPTA (European Piano Teachers Association), New Zealand's Top Music Specialist Performance Programme for the Gifted, Burnside High School (Christchurch, New Zealand), the Music Hall of Composers (Moscow), the National Conservatory of Bulgaria, "Liubomir Pipkov", as part of the 2008 Annual Sofia International Music Festival, Tasmania Conservatory of Music, Shanghai Conservatory of Music, Bordeaux Conservatory of Music, Simferopol Music Hall (Ukraine), Donetsk Conservatory (Ukraine), Imemi Ginky (Glinka) 'State Music Conservatory (Dnipropetrovsk, Ukraine), Insttute of Low Temperature (Kharkov, Ukraine), the Santiago Conservatory of Music (Chile), "Escuela moderna de musica" and numerous other music conservatories, universities, music festivals, and state music conventions in China, Japan, Europe, Russia, Canada, Australia, South America and the United States. 

Dr. Hatch was an award recipient as one of the 1984 Outstanding Young Men of America, and was nominated by twelve United States Senators as one of the Ten Outstanding Young Men of America for 1985. He received the Master Teaching Certificate from the Music Teacher's National Association in 1994, was named one of the Best Teachers in America in the fifth edition of Who's Who Among America's Teachers 1998, is listed in International Who's Who in Music 2000, Who's Who in American Education 2006, Who's Who in America 2007, and most recently in the Biltmore Who's Who Among Professionals, 2008 Honors Edition. His students have participated and won prizes in local, state, national, and international piano and piano teams competitions, have performed local, regional, national, and international solo recitals, have been concerto soloists with chamber and symphony orchestras, have performed in master classes of world-renowned teachers, have performed internationally with Dr. Hatch on several of his summer concert tours, with several who have or are pursuing concert careers at music schools and conservatories including The Manhattan School of Music, The Juilliard School, Indiana Jacobs School of Music, University of Michigan, the Oberlin Conservatory in Ohio, the University of California at Fullerton, Brigham Young University, University of Utah and Utah State University including some who have acquired university and college teaching positions nationwide.
In 2004, Hatch was invited to perform with the National Symphony Orchestra of Ukraine at the Mariinsky Palace in Kiev on a summer concert commemorating the 100-year anniversary of the birth of Russian-born pianist, Vladimir Horowitz. Certain performances and interviews have been aired on National Public Radio, classical radio stations, and affiliates of PBS television in the United States, TVE National television in Madrid, Spain, the BBC in the United Kingdom, Bulgarian National Classical Radio, and on classical radio stations in Oslo, Copenhagen, Hong Kong, Sydney, and Kiev. 

Dr. Hatch has published multiple volumes of intermediate & advanced piano arrangements of inspirational, Christmas, and Pop music with Jackman Music, Inc. and Alfred Music Publishers, is published in America's keyboard magazine, Clavier, and has served as a member of the Board of Trustees of the Gina Bachauer International Piano Foundation and Competitions. David and his wife Paula are the parents of five children and reside in Orem, Utah.